Welcome to
AmeriYank's Holiday Place
Index Page
I
I know it's a drag to get nothing but links at an
Index Page. But I don't know how else to organize this thing!!
I hope you find navigating easy. I have tried to make it simple to
get back to here--just look for this button: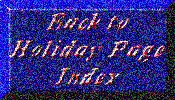 It is located at the first page of every holiday set.
Lost? That's my fault. I had some navigation problems with these pages.
If you are looking for a webring, click on the link below:
Back to AmeriYank's Holiday Place Welcome Page
Apply for AmeriYank's Holiday Site Award
I made the background. I retain the copyright for the background. The
clouds are from a tube by Jasc for use with
Paint Shop Pro 5. If you wish to use my graphics
please visit AmeriYank's Graphics Farm
For clothing and gifts, please visit AmeriYank's AmeriWear
Please do NOT steal my bandwidth.